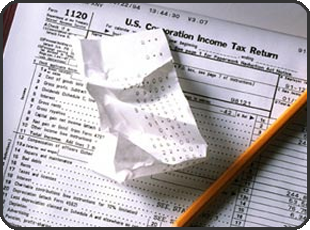 Corporate Tax Return Preparation
In today's world, having a qualified business tax preparer that you can trust to accurately file your corporation tax returns is more important than ever. With the IRS beefing up corporate tax audits and putting new measures into place to close the "tax gap", all small business owners are at risk of facing an audit of their federal tax returns in the near future.
Fredrick James of Clearwater offers corporate tax services backed by knowledgeable tax preparers who will ensure your federal tax returns are filed properly, your tax deductions are accurate and your business is taking full advantage of all tax incentives allowed.
You can count on the expert tax accountants at Fredrick James to be familiar with all facets of business tax law and able to handle all of your tax problems. If you do receive an audit notice on any federal tax returns we've filed on your behalf, our expert tax accountants will be there to help you through it, every step of the way.
---
Your Unique Business Tax Problems
One problem that business owners often face when they begin working on their federal tax return preparation is that there are often no textbook answers for specific tax law questions they may have. While there are many guides and manuals available to provide answers to basic questions, where do you turn when you need answers to the unique business tax law questions that pertain to your company?
"We were pleasantly surprised by the time Fred took before the actual preparation-learning about our history & what next year may bring. He gave me many suggestions on how to be better positioned for 2010 that I was not aware of that will greatly impact our next tax filing." -Kathleen G.
You turn to Fredrick James! Our professional tax preparers offer corporate tax services for businesses of any size. Not only will we help guide you through the tax return preparation process, but we'll also give you the answers to those tax problems and tax law issues that are specific to your business. We know that you will have problems that can't be resolved by looking in a book; and we're here to provide a corporate tax service that is tailored to your business. How do we do it?
By sitting down and talking with you to learn about your business and the tax problems that you may be facing. We'll do a full tax review of your business to get a better understanding of your current tax situation, your tax history, and where you're headed in the future. We can provide you with all the business tax advice you need including what tax benefits are available to businesses in Florida, as well as how you might be able to avoid certain tax liabilities.
"Mr. Daus solved one of my tax problems today and he seems to handle tax matters very well. He explained more than anyone ever has before." -Jeanne S.