We seek long-term, value-driven relationships with clients who are serious about building their personal assets and growing a successful business. We are dedicated to educating our clients; providing high quality services, giving you the tools and information you need to make sound decisions regarding your current and future financial health.
Fredrick James Accounting, Tax & Consulting prides itself on the unique and diverse client base that we serve. Our clients represent many different industries and as a result, our team of professionals work hard to find solutions to a wide range of accounting problems.
We believe that one size definitely does not fit all when it comes to accounting and tax issues. We tailor our services to the particular needs of each and every client we serve.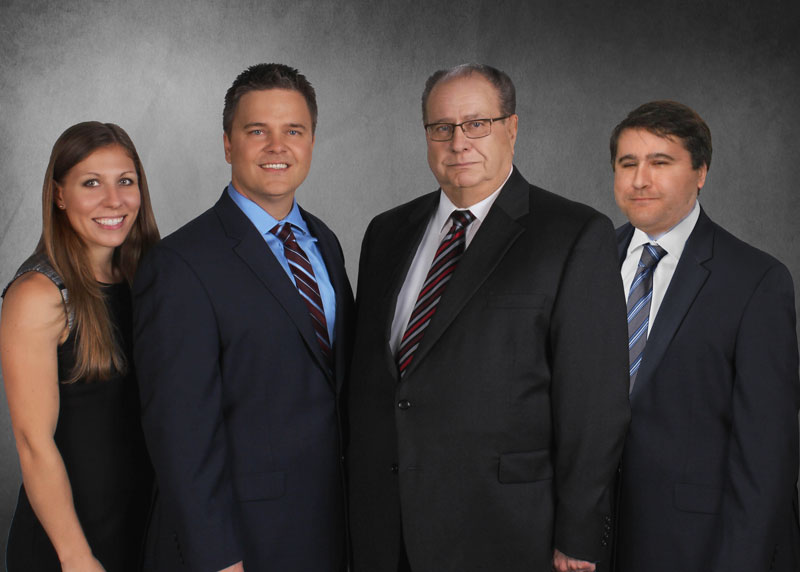 Meet our staff - Crystal Daus, Fred Daus, Joe Dolan, and Steve Cook
Industries We Serve:
Fredrick James serves clients in industries and occupations such as Tourism & Leisure, Healthcare, Medical, Legal, Restaurant & Hospitality, Real Estate, Aviation, Aerospace, Surface Transport & Logistics, Warehouse and Storage, Finance, Media & Entertainment, Energy & Environment, Consumer Products, Business Services, Financial Services, Healthcare Services, Industrials, MedTech, Natural Resources, Private Equity, Advertising, Marketing, Professional, Retail, e-Commerce, Technology, Manufacturing, Importers, Automobile Dealers, Construction, Beer, wine, and liquor stores, Physicians, Investors, Consultants, Independent Contractors, Entertainers, Models and Actors, Authors, Real Estate Investors, Apartment Leasing, Realtors, Real Estate Brokers, Appraisers, Multi-Level Marketing Sales Associates, Medical Sales, Doctors, Surgeons, Dentists, Chiropractors, Pharmacies, Gyms, Beverage License Brokers, Photography, Artists, Aviation Schools, Ice Machine Retail and Service, Car Wash, Website Design, Programmers, Market Research, Restaurants, Bars & Nightclubs, Winery, Importers/Exporters, Consultants, IT Managed Services, Document Storage and Destruction, Airplane and Helicopter Sales, Event Marketing, Promotions, Adventure Sports, Software Sales, Cruise, Charter Boats, Lawn care, Plummer's, Electricians, Contractors, Mechanics, Arborists, Boat Dealers, Yacht Manufacturing, Commercial Cleaning, Window and Door, Golf Clubs, Wholesale Distributors, Motorcycle Manufacturing and Parts, Auto Glass, Insurance Companies, Rehab, Playhouses, Engineers, Architects, Hydraulic Manufacturers, Electronic Manufacturers, Financial Advisors, Kitchen and Bath, Cosmetics Manufactures, Craft Manufactures, Salons, Capital Groups, Home and Office Design Studios, Equipment Rental and Leasing, Beverage Manufacturing, Grocery Stores, Garden Supplies, Durable Good Wholesalers and Home Furnishing Stores.