Earn Cash Back For Every Successful Referral
Share the benefits of being a Fredrick James Accounting, Tax & Consulting client with your family, friends and colleagues.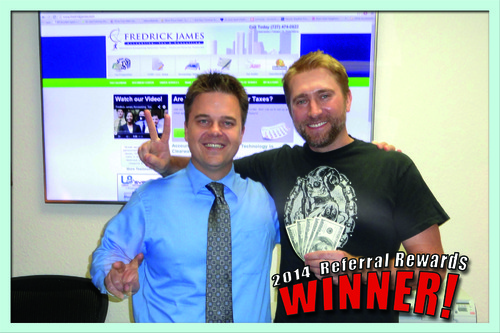 Tell your friends, family or colleagues about how much you saved on your tax return, how our Accountants helped you reduce your tax liability, or how much relief you felt letting the professionals handle your tax problems.
Refer to Fredrick James Accounting, Tax & Consulting and we'll reward you with a $25 gift card* and your friend with $50 off their first service. You will also be entered to win one of our FOUR Grand Prize Drawings** for $500 CASH!
Refer a business client successfully and we'll send you a $50 gift card and give them $100 off their first service. You will also be entered twice to win one of FOUR Grand Prize Drawings** for $500 CASH!
Grand Prize drawings will be held on January 31st, April 16th, July 3rd and October 16th, 2019
Referring is easy.
Encourage your friend, family member or colleague to make an appointment for a free 30 minute consultation at our convenient Clearwater office.
Give a friend or business associate a Referral Voucher from our office or just have them mention your name when scheduling or during their consultation.
Use the Tell a Friend link above to share this offer.
*Each successful referral is based on payment or deposit received on services rendered.
**Referred clients must either make a deposit on their account or complete payment on services rendered for referrer to receive reward and be entered into Grand Prize Drawings for $500 CASH.
---
Official Reward Program Rules:

Customers can refer an unlimited number of friends and family. There is no annual limit on rewards for each successful referral.

Offer period through the end of the calendar year.

Referred customers must complete the referral process within 30 days of notification by retaining services from Fredrick James Accounting, Tax & Consulting.

Referred clients will receive discount at time of payment.

Allow 6 to 8 weeks for reward.
---
Official Grand Prize Drawing Rules:
No purchase by referrer is necessary to enter and a purchase will not increase your chance of winning.

Entries must be received between Jan 1 and Dec 31st of each calendar year.

Drawings will be held on or the next business day 1/31, 4/31, 7/31, and 10/31.

Must be a current client and 18 years of age or older to enter.

To enter, simply encourage your friends and family to call Fredrick James to schedule a free 30 minute consultation or use our convenient online referral form. Once they retain services and complete payment for services rendered your name will be automatically entered into drawing and an Amex gift card will be mailed to you if you are the winner.

One entry per successful individual referral.

Two entries per successful business referral.

No limit on number of entries.

Odds of winning depend on the number of total entries. The more successful referrals you have, the better your chances of winning.

Four (4) Grand Prizes will be awarded.

Description of Prize is as follows: Four (4) $500 CASH.

Winners must provide Fredrick James, LLC with a completed and signed W-9 as well as a completed acknowledgement of the receipt of $500 and any other tax paperwork that the IRS may require.

The winners are responsible to pay the taxes associated with their grand prize winnings.
---
Get your reward
It's easy, you get a $25 Gift Card for each successful individual referral* or a $50 Gift Card for each successful business referral* to Fredrick James Accounting, Tax & Consulting, with no limit on how many referrals you make throughout the year!
Your friends and family will benefit too with $50 off of their first service for individuals, $100 off for businesses.