You Should Be Using QuickBooks!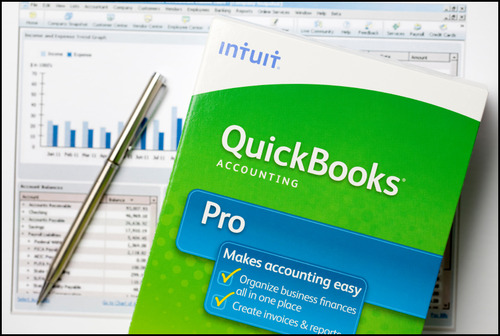 QuickBooks is the most popular of all business accounting software packages, and with plenty of good reasons. QuickBooks is your best choice because in addition to being intuitively designed to be used by people without a background in accounting, it is scalable to accommodate a wide variety of business sizes and types. It truly does allow you to accurately keep your accounting while giving you the the information you need to make good decisions for your business!
If you have an existing business using different bookkeeping software, you should strongly consider the benefits of switching to QuickBooks. And if you're business venture is just beginning, you should absolutely start out with QuickBooks accounting software. Over 90% of small businesses use QuickBooks meaning that a good portion of the available accountants are familiar with QuickBooks accounting software. Getting QuickBooks help or QuickBooks training when you need it is easier, and finding employees who are familiar with the software is also more probable.
10 Reasons to use QuickBooks:
Save Time – many common bookkeeping tasks are handled automatically making it easier to run your business.
Save Money – Time is money, of course. But, having the most accurate information possible will help you save money in more ways than you can imagine!
Knowledge is Power – Reports can easily be generated with any information you need, so you always know the status of your business.
Scalability – QuickBooks can grow with your business while helping your business to grow.
Customizability - QuickBooks can be customized to work the way you want it to, the way your business NEEDS it to.
Stability - You can rest assured knowing that QuickBooks is a stable, reliable and proven product.
Compatibility – QuickBooks can share data with a wide variety of other software. This saves you data entry time and provides more accurate and timely data.
Online Banking – Easily pay bills and write checks from within QuickBooks. Synchronize with your bank account and put checking account balancing behind you forever!
Get Paid Faster – With QuickBooks, you can e-mail an invoice or statement and your customer can easily pay you with a credit card or bank account transfer.
Accept Credit Cards - QuickBooks Merchant Account Service is the only credit card acceptance service integrated with QuickBooks software, eliminating duplicate data entry.
---
Quickbooks Setup
We can set up QuickBooks for your company in the most efficient manner to save you time so you're accounting and recordkeeping processes provides you with the best information to make great management decisions for your business. The key to success with QuickBooks is setting the program up correctly the first time, using the program as intended, having your accountant review your QuickBooks file on a monthly basis to ensure that all of your transactions are classified correctly and to guide you along the way in an effort to get the most out of your QuickBooks system investment. Contact us today about how we can help make your QuickBooks setup process easy, efficient and effective.
---
Quickbooks Training
We train our clients one on one in our office because we understand that your business and QuickBooks needs are very different from other business's and one size does not fit all. Our trainers will meet with you in our office and go over your unique QuickBooks needs. This will save you time and money because you are learning only what you need to know so you can get on with your day.
QuickBooks, when used correctly, is a powerful business management and reporting tool. QuickBooks training by an experienced QuickBooks Pro-Advisor who is also an accountant can help propel your understanding of the program and can relieve you from hours of time-consuming record keeping tasks that keep you from doing what you do best. Contact us today about how we can help you set up a convenient QuickBooks Training class.
---
Quickbooks Support
If you have been stuck on a QuickBooks problem and not had somebody to help, you know how frustrating and unproductive this situation can be. Having an experienced QuickBooks Pro Advisor who is also an accountant can mean the difference between hours of unproductive frustration or a short QuickBooks support session to get you back on track.
QuickBooks adds updates on a yearly basis making the program more productive and efficient. Often, users of QuickBooks are not familiar with the updates that could save them a lot of time and frustration. Getting QuickBooks training by an experienced QuickBooks Pro Advisor who is also an accountant can often add hours back to your productivity meaning you can take the extra time and invest it in your business or spending time with your friends and family.
Contact us today about how we can help make your QuickBooks Support process time saving, efficient and effective.
---
Quickbooks Payroll
QuickBooks payroll is an excellent solution for business's that wants to have control of their cash flows, the timing of payments and have their employee information at their fingertips in an easy to read format. No matter if you are having a payroll service process your payroll or you are processing your payroll with Intuit, the information that these companies need is the same as if you had your own in-house payroll. Our payroll experts are accountants who can help your company design and implement your versatile in house payroll system to meet your company's unique needs. Our clients enjoy our partial payroll service to full service payroll help. For example, you can choose to enter your employee payroll and process their checks and hand over processing the payroll tax payments and compiling the payroll tax returns or you have us do it all. Either way or any way in-between, we have you covered all the way to sending out the W-2's at year end to your employees.
After the fact payroll is an excellent choice for small business's who don't need full service payroll for employees but still need to process an owners payroll to meet IRS S-Corp/C-Corp regulations. This service gives the owner the freedom of transferring money out of their business account to their personal account (Owners Distribution). Our professionals will help you get started today and take care of all the details so you can get back to what you do best. No matter what your need is, we have your payroll covered.
Contact us today about how we can help make your QuickBooks Payroll process simple, effective and fast so you can focus on your business.
---
Quickbooks Hosting
Want to have QuickBooks Desktop or QuickBooks Enterprise available 24/7 from anywhere in the world and find that you are stuck with QuickBooks online or another accounting software? Look no further, we host QuickBooks Desktop, QuickBooks Enterprise and other programs. Our hosting system is designed to give you access to your accounting system and other information anywhere anytime. Our QuickBooks Hosting solutions is a tailored solution to fit your needs. We can add multiple user access points, add additional resources such as space, bandwidth, users, restricted access points etc. If you have grown out of QuickBooks online or just prefer QuickBooks Desktop or QuickBooks Enterprise we have the right solution for you.
Contact us today to see how we can help make your QuickBooks Desktop or QuickBooks Enterprise program run seamlessly remotely from anywhere, anytime, anyplace.