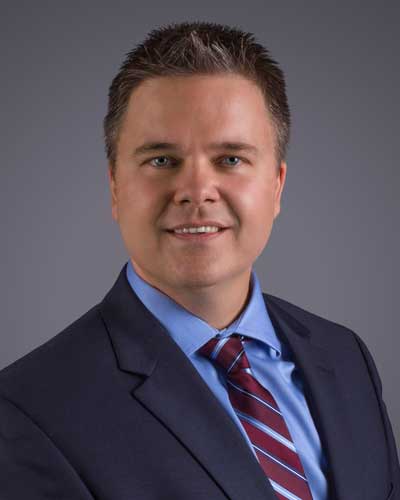 Fred Daus is the Chief Executive Officer of Fredrick James and is the Chair Member of the board of directors. Fred founded Fredrick James in 2004 and brings more than 25 years of accounting industry leadership, corporate business expertise and executive management experience to his role in the company.
Fred manages the corporate direction and strategy of Fredrick James, facilitating company activity in consulting, sales, marketing, alliances and channels, and support. He is also responsible for Fredrick James global business growth initiatives, and creating products and services for individual and business markets such as high impact tax planning strategic systems and services, technologically advanced accounting related systems and services, visionary technological financial systems and services and strategic global business growth consulting systems and services.
Fred believes that both individuals and businesses thrive in structured strategic goal orientated settings. His team at Fredrick James sets out to bring new perspective to its clients in an effort to shake up the status quo and kick start the growth opportunities through innovation and unrelenting persistence.
Fred Daus specializes in the Entertainment Industry for Agency's, Agents, Models, Actors, Movies, Theater, Music Performers, and Cruise Ship Performers. He specializes in the Medical Industry for Outpatient, Therapy, Phycologist, Pharmacy, Surgeons, Dental, Orthopedic, and Chiropractic. He also specializes in the Legal industry for practices in Estate and Trust, Business, Family Law, Injury, Bankruptcy, Technology, and Intellectual Rights. His other specialties include the Consulting industry in medical, Information Technology, Utilities, aeronautics and business, and the Hospitality Industry including hotels, restaurants, and bars. Fred provides specialized consulting services in Tax Planning and Wealth Preservation, Strategic Business Growth, CFO/CEO Outsourcing, Managing Board Director Outsourcing, Advanced Business Setup and Incorporation, International Business, Advanced IRS Mediation, and Advanced Tax Resolution.
Prior to Fred's role as CEO of Fredrick James, he held a variety of management, operations, sales and financial roles in company's such as OSI Restaurant Partners, InterContinential Hotels Group, Pappas Corporation, and Moore Stephens International.
In 2014 and 2015 Fredrick James was recognized by USF as one of the 56 Fastest Growing Businesses. Fredrick James was also awarded the GTD Making a Difference award in 2016 for their impact in the communities the firm serves.
Fred Daus graduated from the University of South Florida in 2002 earning his Bachelor of Arts degree in Business Administration and is currently completing his Masters of Business Administration and his Masters of Accountancy. Fred was admitted to practice before the Internal Revenue Service as an Enrolled Agent and represents clients in all 50 states as well as territories around the world. He is a member of the National Society of Accountants, the National Association of Enrolled Agents, the National Tax Practice Institute, the National Association of Certified Tax Coaches, the National Society of Tax Professionals, Phi Theta Kappa, and Beta Gamma Sigma. In 2016 Fred was designated a NTPI Fellow denoting his mastery of taxation. In addition, in 2016, Fred was certified as a Tax Coach denoting financial expertise, tax planning excellence, and his mastery of high-impact tax planning strategies. In 2016, Fred was honored with the Going the Distance "Making a Difference" award in recognition of his meritorious achievement, service, and philanthropy to the ministry. He continues to support Going the Distance, providing the support and donations necessary for the long term success of the enterprise.
Fred currently serves as the Treasurer of the Suncoast Enrolled Agents. He previously served as the President of the USF International Club. In his spare time he enjoys flying, motorcycling, traveling, cooking, philanthropy, educational pursuits, and spending time with family and friends.